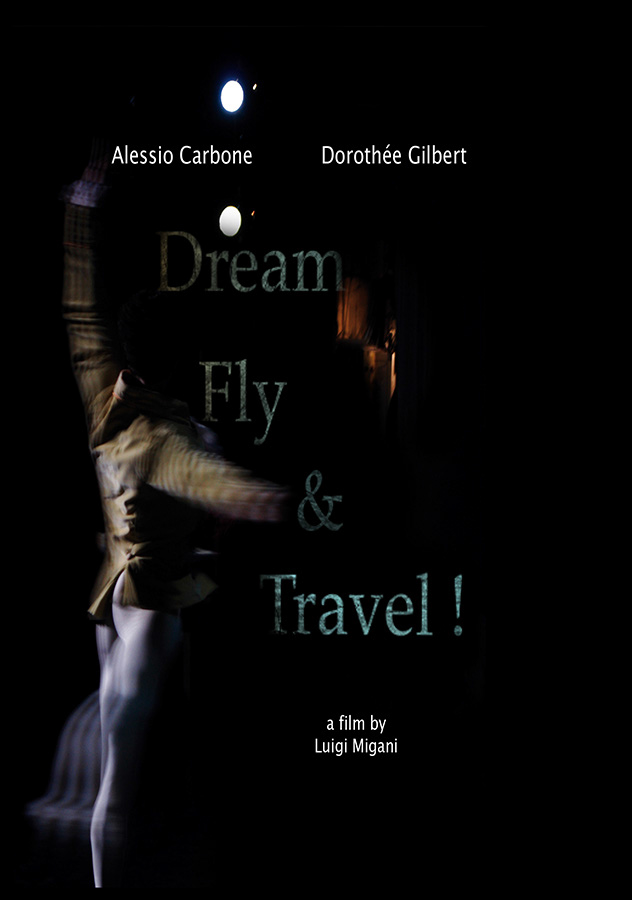 "Dream, fly & travel!"
a film by
Luigi Migani

LOGLINE
Dream fly and travel! is a documentary/fictional movie that chronicles the preparation of the classical ballet the "sleeping beauty" by Paris Opera dancers' Alessio Carbone and Dorothée Gilbert. In their spare-time they rehear the ballet, learning the Russian style from scratch and what Irina Kolpakova, trough the direction of Eldar Alliev, has transmitted .

SYNOPSIS
It's late morning of a hot August day, in Venice. Alessio and Dorothée, main dancers at the Paris Opera, are getting married.
The atmosphere is one of a tail, with beautifully dressed guests and a romantic ceremony in the San Marco's cathedral. The wedding party starts and end at sea.
Summer is over and Alessio and his bride are back in Paris, at the Opera, with a new challenge for their feet.
They have to study, in their spare-time, the Russian version of the "Sleeping beauty", under the direction of former Kirov principal dancer Eldar Aliev (and former Kirov leading ballerina Irina Kolpakova), following the original version by Marius Petipa.
The challenge for Dorothée is to learn this ballet in the Russian way, as she comes from a pure French tradition.
Alessio, instead, started learning the Russian style at the Scala in Milan under the wing of Sergei Soloviev. He has now to move back to his origins.
His main challenge is to keep on being himself while dealing with this sort of expressive dualism.
Alessio's journey into the character of prince Désiré will make him face his inner fears and recurrent questions.
Gil Isoart, former "Sujet" at the Opera, will lead them into this metamorphose, as ballet master, mentor and friend.
The days before the first representation run fast, between meetings with the people who use to contour Alessio, his dreams and nightmares and exhausting training sessions.
In Palermo, Alessio and Dorothée, finally transformed into their characters, are now accompanied by just the final, enthusiastic clapping of their fans and Gil's never-ending corrections.
Back in Paris, Alessio meets Madame Lèfevre, director of the dance at the Opera, who wisely encourages him with severity but tenderness.

DIRECTOR'S NOTE
I already photographed Alessio in various occasions.
Some time ago, back from his wedding, he announces to me that he is going to prepare a ballet to be performed in Italy very soon.
A topic which interests me since always; how to render on screen the repetition, the nearly masochist perfectionism of classic-ballet dancers.
I filmed from end 2009 to beginning 2010. It is a "no budget" project, totally self financed and self shot.
It took me quite a while to finish it and just by the end of May 2013 I could give my final cut.
"Dream fly and travel!" was a great challenge. I have conceived and turned the film like a child who discovers how these semi gods live their immortal lives, how they dance and, trough dance, how they go back on earth, as common beings who fall and stand up again, thus they never give up.
This film was shot practically without a team, always in a rush, in order to create a relationship of confidence with my characters, normally extremely shy and discrete.
I wanted to keep the mythical allure which surrounds the Corps de ballet of the Opera.
I went trough the intimacy of my characters but I tried to leave some touches of mystery and dream.
The recurrent dreams and nightmares in the film are playing as a mezzo in apposition to the hard reality of repetition and dedication and are meant to confuse the audience on what is real to what is not. I showed indeed the fantastic sequences in a theatrical way, as for unifying stage to life and life to dream.
Dance is a metaphor of life, where dream and reality are linked and become the true meaning of life herself.
I also spend some time on the meeting of two cultures, the Italian and the French trough the relationship between Alessio and Dorothée.
I filmed only the backstage as I wanted to concentrate on the journey. The journey of my two heroes is indeed a metaphor of life herself.
Constancy, renewing the challenge at every step, fear at every jump.
The real challenge of Man to never give up to fear.
MAIN CAST
Alessio Carbone, first dancer at the Opéra de Paris
Dorothée Gilbert, étoile at the Opéra de Paris
Gil Isoart, now ballet master, previous sujet dancer at the Opéra de Paris
Eldar Aliev, previous first dancer at the Kirov and now acclaimed choreographer in the USA.
Sergei Soloviev, former first dancer at the Bolshoi in Moscow and Alessio's first ballet teacher.
Alfonso Santrapia, psychologist and one of Alessio's best friends
Luciano Cannito, director at Teatro Massimo in Palermo
Brigitte Lefèvre, directrice de la danse at Opéra de Paris.

CREDITS
Composer
The original music track has been composed and performed by Touve R. Ratovondrathey and sang by Nivo Rahoerson.
Editing
Joaquim Delgado has worked for the editing in 2010-2011 in Paris.
Luigi Migani finished the final-cut himself in May 2013 in Berlin.
Sound mix
Emilien Bernaux cured the mixing.

LUIGI MIGANI, Biography
Born in Italy he moved from one Country to another until he settled for around 10 years in Paris. It's over 2 years he made Berlin his new home. Fashion and portrait photographer, he worked for many years for main international fashion photographers, published his own work on magazines, shot commercials and made several solo and multi expositions in Paris, Tokyo, Milan.
In 2007 he followed his first course on directing. Since then, he shot his first short movie ("Quand il neige", a silent movie filmed in Paris and in Austria with himself as main character) followed by another short experimental the year after, "Play?!" and, in 2010, "La vie simple", a short produced by Enormous Pictures, starring J.P. Kalfon, officially selected by several international festivals.
In late 2009 he started filming Alessio Carbone and his entourage, previously shot for personal projects. In May 2013 he completed what he finally entitled " Dream, fly & travel!" an experiment of narrating documentary in a fictional way.
Technical sheet:
Title: dream fly & travel!
Fiction/documentary
Format DCP
Principal language French
Length 75min
Locations Paris PalermoVenice
Characters Alessio Carbone
Dorothée Gilbert
Gil Isoart
Léonore Baulac …